Dog Loves To Steal Her Mom's Pumpkin Thinking It's Her Favorite Toy
Balls are something that dogs seem to love. Not just specifically balls, but as long as it is anything that comes in a round shape, dogs wouldn't hesitate to go catch it, play with it, and become obsessed with it.
Alison Lewis, a mom of two dogs named Lilly and Max, went home from the supermarket a week ago. She planned to make a pumpkin soup so she bought one. The two dogs were mesmerized when they got to see the pumpkin. Apparently, it was their first time to see one.
Lewis pulled out her smartphone and began to document her dogs' hilarious reaction. When she left them there, Lilly was so quick to steal the pumpkin. Lewis caught her in the act but still, she refused to surrender the squash. She rolled it down the stairs away from her mom.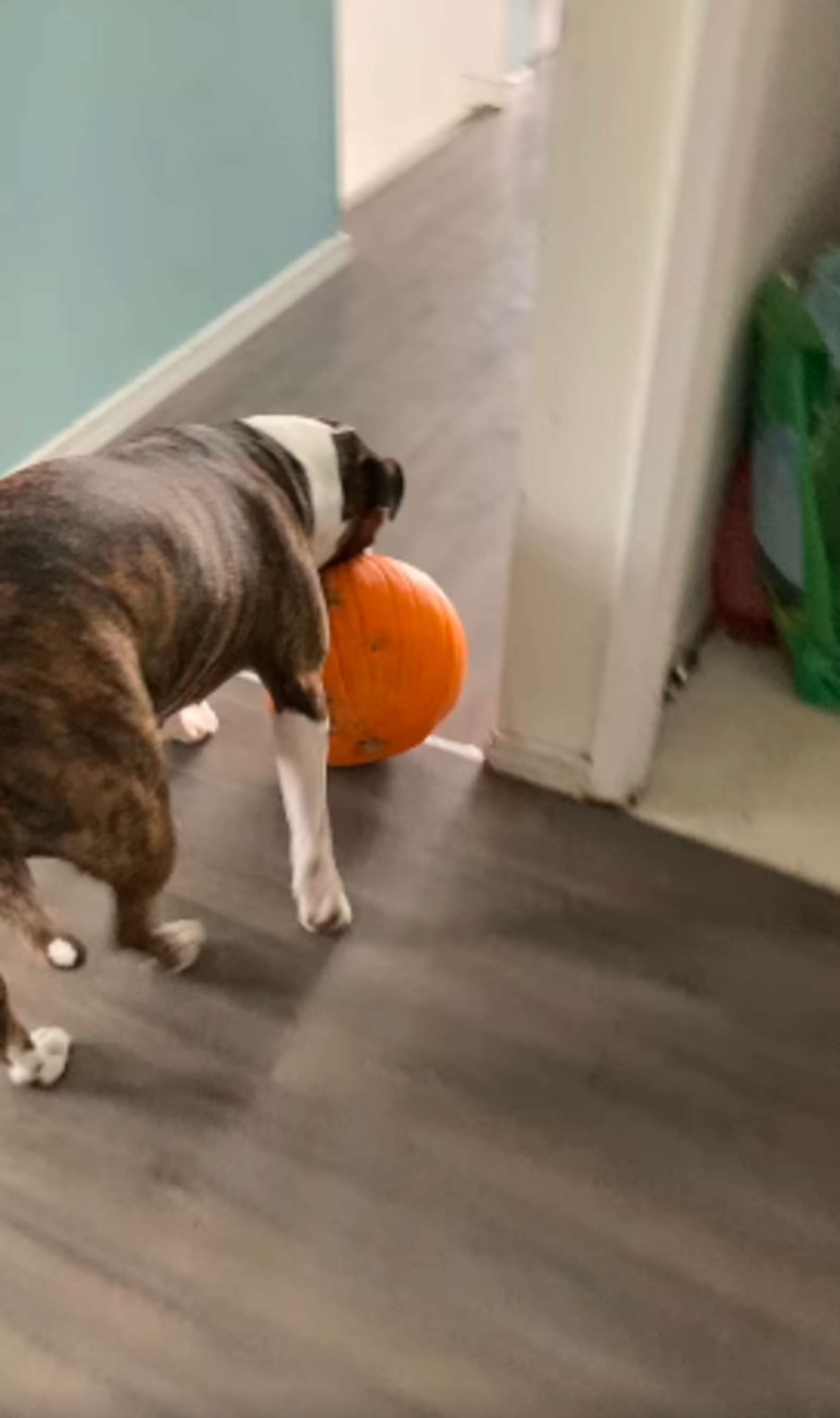 Fortunately, the pumpkin didn't break out giving Lilly an idea that it was really a ball to play. But if it blew up, it's nothing to worry about because pumpkins are safe for dogs, either cooked or raw. It is enriched in vitamins and fiber.
Checkout the 10 healthiest human foods that you can share with your pooch.
Lilly continued rolling the pumpkin outside their yard, played with it, and even licked it. She really thought it was hers. Lewis took the pumpkin from her. No one is to blame why Lilly is so obsessed with it because she loves balls. Pumpkins do look like a ball, and she thought it was her favorite toy. She becomes obsessed with anything that is round-shaped.
Lilly Gets pumpkin soup to ease her disappointments
Lewis went back inside with the pumpkin, cut it in two, and roasted it for Lilly's soup to ease her disappointment. But she doesn't have to worry much about it because Halloween is almost near. Lewis would buy a lot of pumpkins for the entire family and Lilly would be happier with it.
Source Healthy Happy News via Alison Lewis