Blind Golden Retriever Gets a 'Seeing Eye' Puppy to Help Him Out
We all need a little help sometimes.
Dogs are known to be a big help for people with special needs. Some are trained to become service dogs or guide dogs for the disabled. But what's more amazing is that they can also be of service to their fellow dogs.
Chelsea and Adam Stipe is a couple from North Carolina. They were looking for ways to help their 11-year-old Golden Retriever, Charlie, with adjusting to his new lifestyle. Due to glaucoma, the doggo lost his left eye about a year ago, but eventually, the right eye had to be taken out as well.
Charlie gets his own "seeing eye dog"
Chelsea and Adam Stipe also revealed that they had to use their retirement savings to help with Charlie's treatments. They didn't need to have second thoughts about it, they just knew that they have to save Charlie because he makes their family happy.
With this, the couple decided to adopt Maverick, a four-month-old Golden Retriever to help Charlie with adjusting to this drastic change. The senior dog was a little cautious of Maverick at first. But when Maverick saw Charlie needed a hand (or in this case, a pair of eyes), he didn't need to think twice about helping him.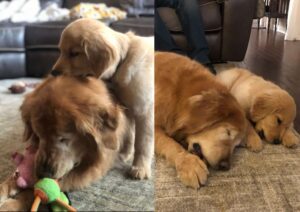 Chelsea describes that when their two pets would play, Charlie would sometimes lose a toy and Maverick would help him by picking that toy up and placing it near him. This started their bond as they slowly become best buds.
The Stipes have been wanting a second dog for a very long time. After finding out that they were pregnant, this pushed them all the more to finally adopt Maverick so their child could also experience growing up with a dog. The Stipes knew adopting Maverick was the right choice because it was such a joy seeing these dogs playing together. Checkout the 7 Benefits Of Your Child Growing Up Around A Dog.
Photo credits to @charlieandmav